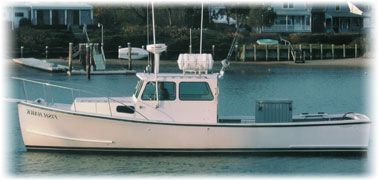 38′ Spacious 6-man Charter Boat
Most spacious 6 man charter boat on Cape Cod!  Local and offshore fishing for doormat fluke, cod, bass, tuna, sea bass, scup, blues, and more!
The Fishhawk is a 38' Wayne Beals design for charter fishing. It is equipped with the latest electronics, safety and fishing equipment.  The forward cabin includes 4 bunks and a private restroom. The Fishhawk sails out of the dockside marina on School Street, inside Hyannis Inner Harbor. Equipped to handle up to 6 passengers for many species of fish year round. Offshore trips range from 11 – 14 hours. Inshore trips range from 4 – 8 hours. Call for reservations and availability.
Prime Fishing Seasons & Species



SHADED




IS BEST




COD




HADDOCK




BLUEFIN TUNA




FLUKE




PORGIES




(SCUP)




SEABASS




SQUID




STRIPED




BASS




BLUES




TAUTOG




(BLACKFISH)

JAN

X

 

 

 

 

 

 

 

 

 

FEB

X

 

 

 

 

 

 

 

 

 

MAR

X

X

 

 

 

 

 

 

 

 

APR

X

X

 

 

 

 

 

 

 

 

MAY

 

X

 

 

X

X

X

 

 

X

JUNE

 

 

 

X

X

X

X

X

X

X

JULY

X

 

X

X

X

X

 

X

X

 

AUG

X

 

X

X

X

X

 

X

X

 

SEPT

X

 

X

 

X

X

 

X

X

 

OCT

 

 

X

 

X

X

 

X

X

X

NOV

X

 

X

 

 

 

 

X

 

X

DEC

X